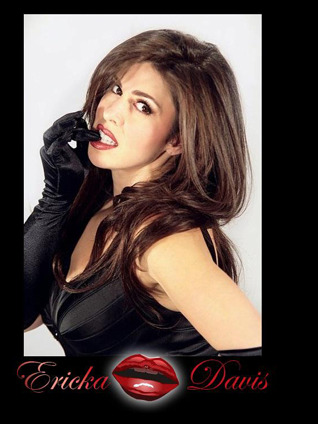 Gorgeous, talented and full of life . . . Anyone who has ever seen Ericka Davis perform can certainly understand why she was chosen as Northern California's hottest musician by Fringe Magazine. Interestingly, her singing career began like many renowned artists such as Debbie Boone, Patti LaBelle, Tina Turner and Dolly Parton - in her church plays and in the choir. "I can still remember at age 13 taking the stage for my first solo performance at church. While I sang the first verse of that first song, I heard my knees literally knocking together. However, once I was past the first verse and onto the chorus, I knew my life would be changed and from that moment on have never been nervous again! The rest of my life has been addicted to that rush of a microphone in my hand! My self-confidence had everything to do with discovering the talent that I was born with. "

Ericka was elected as the president of the Woodland High School Choir and continued to sing and perform at every opportunity. She won the choral award her senior year as well as the "Business Student of the Year" scholarship and ended her high school career by having the honor of singing for her school graduation! In 2001, after being heard singing for a wedding ceremony, Ericka was asked to join a local cover rock band her life suddenly changed. "When I shared with my friends that I had joined this rock band they told me "Ericka, you can't sing Led Zeppelin! You're a wedding singer!" I said 'WATCH ME!' and over the next few months I transformed into a full-fledged rocker! My friends and family couldn't believe I pulled it off!" Ericka came into her own during her time as the lead singer of Four Barrel, giving all out performances while turning cartwheels. Ericka's powerhouse voice was able to take on songs like `Barracuda' by Heart, Jefferson Airplane's `White Rabbit' and `Heartbreaker' by Pat Benatar! After having the honor of opening for "The Animals" at the Dixon May Fair in May 2008, largely in part to Ericka's enthusiasm and dedication, her fans voted Four Barrel one of the "Top 5 Best Bands of Sacramento" by KCRA Channel 31's A*List contest! "I felt on top of the world. My personal motto became `Sing it Loud' and after seven years of rocking out as a cover artist, I was ready to fulfill my ultimate dream of creating and performing my own original music!" celebrates Ericka.

Risqué, Day Dreams and Liberated, three of Ericka's first original songs, were born from believing that all things are possible through her music. In July 2008, Ericka was nominated as Hottest Musician from a Northern California music magazine called `Fringe Magazine' and won! This honor opened up a whole new world and has pushed Ericka to begin a fierce journey onto the professional original music scene.

Over that summer Ericka was honored to have starred in a weekly running theater dinner show on Broadway in San Francisco at the historical Broadway Studios singing show-stopping classics from the likes of Judy Garland, Frank Sinatra, Barbara Streisand and other timeless singers in this extraordinary Broadway venue was a dream come true! She's so thankful for the exciting opportunity to show her versatility and challenge herself once again as a singer and entertainer.

In December of 2009, together with her husband and drummer Bill Davis, they created their band Kiss 'N Tell ~ because what song isn't about kissing and telling? Ericka enjoys managing Kiss 'N Tell and strives to offer her audience everyone's favorite sexy high energy dance music along with an outlet to share her original music!

From the leadership and emcee skills she's cultivated through her music career she enjoys being a part of many events that help her fellow musicians and performers! She's the Entertainment Director for the TGFS yearly staff event for the University of California in Davis as well as the Entertainment Director for the Almond Festival in Capay Valley and for the Earthquake Festival's karaoke competition in Winters. She's especially proud of her work over the past three years of being the Talent Manager for her home town's Yolo County Fair "Yolo Idol" karaoke competition in Woodland because she knows how pivotal these community events are that inspired her to follow her dreams in become the recording artist and performer she is today! The most fulfilling thing that has transpired from following her own dreams is the opportunities she's had to help people through these community events that help kids through follow their dreams! Talented kids are often invited to join Kiss 'N Tell on stage because she professes, "had I had the opportunity to sing with a band when I was a kid ~ I'd be famous by now" so whenever the opportunity presents itself to help and inspire kids to perform ~ she does! "I want to be a positive inspiration to people and prove that people can do whatever they aspire to do if they work hard enough, never give up and always "Sing It Loud'!" cheers Ericka.